Log In

Top 3 Facebook Marketing Tips
1. Give people a reason to "Like" your page.

So you have a Facebook business page, now what? It is time to build your audience! Building your page's 'likes' can seem like quite a daunting task, and, quite frankly, is not an easy feat. Providing an incentive to potential fans is one of the best ways to quickly build your fan base. The point of a Facebook page is to provide your fans with inside news and valuaeble information that they would not normally get if they did not 'like' the page. If you offer a free trial or coupon to your service or product upon 'liking' the page, you are much more likely to increase your fan conversion rate. You are giving your audience value in becoming a fan.
2. Include pictures in the majority of your posts.

Have you ever heard the saying, "a picture is worth a thousand words?" Well Facebook doesn't give you a thousand words to post, but it does give you the ability to add a picture to any status update. Whether you showcase a product, client, employee, service, event or any other fun picture, a photo can spark engagement that a wordy status update can't. People respond well to photos, and it has been revealed that engagement tends to be much higher among photos than both links and copy.
3. Get creative with your content.

Content is KING. A page without content is simply a page, and nothing more. The reason fans 'like' a business page is because they believe the information your push out is valuable. Even though your Facebook page is a marketing tool for you, use it in more creative ways than simply posting about yourself all day long. Provide insight into your industry. People become desensitized to constant promotion. Link to websites, articles, news items, events, photos, etc that are relevant to your business, and that you believe your fans would be interested in knowing about. Be an invaluable source of information. Be the one they go to for their news and industry updates.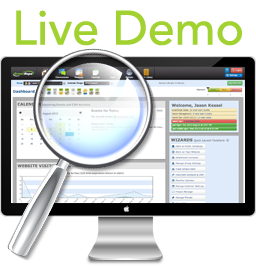 Already have an account? Click here to login.
See how Rich CRM can help you!
Some of our clients: